Newsletter January 2021
IN THIS ISSUE
South Park Mission Statement
Open House Information for 8th Graders
Progress Reports
The Giving Tree
Return to Model 3 Hybrid Learning
Learn More Links
Infinite Campus Messenger
In Need of Assistance?
School Breakfast/Lunch Program- Meal Distribution during Model 3 Hybrid
Essential OASD information
School Safety/ Where to Drop Off and Pick Up
Whom Do I Contact?
Specialist Updates & News, PTN Information
CONTACT
Oshkosh Area School District 215 S Eagle Street Oshkosh, WI 54902 920.424.0395
info@oshkosh.k12.wi.us
South Park Middle School 1551 Delaware St. Oshkosh, WI 54902
Office Phone 920.424.0431
Attendance Phone 920.424.0431
ext. 2702
Fax 920.424.7513
South Park Mission Statement
At South Park Middle School, education is a continuous transitional experience, which promotes positive intellectual, emotional, social, and physical growth. Students are encouraged to maximize individual potential to function in a diverse society.
Please remember that you are always welcome at South Park. We want you to take an active role in your child's education. Your involvement in your child's academics as well as extra-curricular activities will result in their success. If you ever have any questions regarding your child, please call 920-424-0431
to be directed to the appropriate staff member. We are here to help you and your child.
---
Oshkosh West & Oshkosh North's Open Houses
Attention 8th Grade Parents! Open Houses and scheduling information will begin in January, virtually.
Oshkosh West
Due to the ongoing challenges that COVID-19 presents, Oshkosh West High School will not be holding an in-person scheduling orientation for 8th graders and their families. Instead, 8th grade families will be getting information about signing up for classes through email in late January.
Clear instructions as well as a variety of resources will be provided in the email and on our school website to assist students and families in scheduling classes for high school. Students will begin the process in early February and counselors will be available to assist with any questions that arise.
For students who are interested in learning more about the Academy for Global Studies or AP World History, these programs will be sharing video presentations through email followed by virtual question and answer sessions.
More information about these opportunities will be shared in January.
We are looking forward to meeting our incoming freshmen and families in August!
Oshkosh North
Hello Future Spartans & Families!
We are extremely sad we're not able to meet in person this year for our annual 8th Grade Open House! We know this is an important night to learn more about the transition to North, scheduling for 9th grade, and high school in general! In place of an in person event now, we have created a video we hope you'll watch instead!
The attached video contains a message from each of our administrators, your counselor, and each academic department. Additionally you will hear information about scheduling for next year, summer school, and the transition to North!
8th grade video: https://www.wevideo.com/view/1991153631
We are also including a link to the presentation shared by Mrs. Plonsky, your counselor! Please feel free to refer back to this presentation if you have initial questions about scheduling, summer school, or the transition to North!
8th grade presentation link: HERE
Scheduling this year will look a little different. We have decided to complete all schedules through a google form. If you are interested in attending North next year, please complete the attached google form by Friday, January 22nd!

9th Grade Scheduling Form: HERE
Lastly, we will be holding an optional virtual Question & Answer session on Wednesday from 6:00-7:00 PM! Please bring your questions and join Mrs. Plonsky, Mrs. Erickson, and some of our Administration team during that time!
Link for Q&A Session: https://meet.google.com/pko-otqb-rao
We look forward to getting to know you all next year!
Sincerely,
North Counselors & Administration
---

Attention 8th grade parents and students

Please watch your email on January 25th for a very important message from West High School on completing your course requests for your freshman year. The email will contain a very specific tutorial that will walk students and parents through the entire scheduling process. Infinite Campus will be open for course requests from January 25th - Jan 31st at midnight. Mrs. Wolters will be joining all 8th graders during literacy class the week of Jan 25th to answer any questions students may have. Thank you!
Return to Model 3 Hybrid Learning January 11th, 2021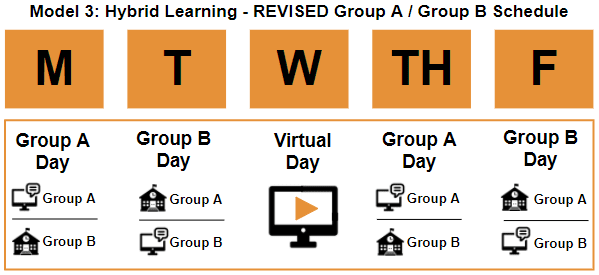 Progress Reports
Progress reports will be posted at weeks 5,10, and 15 of the semester. An email will be sent to tell you the grades have been posted since the district has gone paperless. Just as grades are dependent on the requirements in the classroom, progress report marks are too. If you have any questions about the progress of your child, please contact your child's teacher.
Semester 1 Report Card available on IC Jan. 20th.
---
The Giving Tree
Although so many things are different right now, one thing that always remains constant is the kindness and generosity of the South Park staff and families. A huge thank you to all staff and families that made the South Park Giving Tree a success once again this year. With your donations, we were able to brighten the holidays for 16 students. Thank you for all you do to make South Park such a special place. Enjoy the holidays and best wishes in the New Year.
LEARN MORE:
Students should be sure they are checking in using IC for attendance each day they are virtual. Remember to contact the attendance office if your child is unable to participate in Virtual Learning on any given day.
---
Infinite Campus Messenger
One of the benefits of our student information system, Infinite Campus, is the messenger program. Through the Parent Portal Inbox, via Email, Voice, and/or Text. in order to save paper, we will be emailing the link to the South Park Newsletter with a target date of the first of every month. Please check to see that your current email is listed in your contact information on the Portal. There may be times when we send out a message via phone or text as well, so it is important that we have current contact information in our system.
---
Are You or Someone You Know in Need of Assistance?
If you or someone you know is in need of assistance in one of the areas below, please contact Jodi Gunckel or Heather Wolters for specific organizations and phone numbers in the areas you need assistance.
Child Care/Day Care, Clothing Assistance, Employment Resources/Job Search, Energy Assistance, Financial Assistance, Food Assistance, Health Care/Mental Health, Home Repair, Housing Options & Respite, Information & Referral, Labor Related Resources, Legal Services- Mediation, Personal and Family Concerns, Refugee and Immigrant Services, Transportation, Veteran Services, Work-Related Services for the Disabled.
---
Having Difficulty Finding the Resources You Need?
To connect to community service, help is just 3 digits away. United Way 211 provides easy access to health and human services.
Dial 2-1-1 OR 1-800-924-5514
for help with information about food resources, counseling, employment, health care, child care, support groups, housing, clothing, after school programs, or legal aid.
It's FREE, confidential, and available 24/7.
---
School Breakfast/Lunch Program
OASD Free School Meal Distribution During Model 3: Hybrid Learning
Following the OASD's Winter Break (December 23 - January 1), Free School Meal Distribution will resume on Wednesday, January 6, 2021.
While the OASD is in Model 3: Hybrid Learning school meals (for virtual learning days, eAcademy students, and anyone age 18 and under) will be distributed as follows:
Meal Distribution During Model 3: Hybrid Learning:
Meal distributions will continue to occur on Wednesdays ONLY at the following locations and times:
North High School (circle drive in front of school) from 10:30 - 11:30 a.m.
West High School (in front of door 20) from 12:15 - 1:15 p.m.
West High School (in front of door 20) from 3:15 - 4:15 p.m.
North High School (circle drive in front of school) from 5 - 6 p.m.
NOTE: No school meals will be sent home with students at the end of their in-person learning days at this time. Families looking for additional school meals for virtual learning days are asked to visit the distribution sites on Wednesdays to receive those meals.
---
Meal Distribution Details
Meals will be distributed for five days at a time and will include a breakfast, lunch, and supper for each day.
Milk will be offered with all meals.
Meals are available and are free to anyone age 18 and under.
Children do not need to be present to receive free meals, a parent/guardian or sibling may pick up meals.
Children do not need to be enrolled in the Oshkosh Area School District to receive free meals.
---
Questions, Suggestions, Concerns
At South Park Middle School we are dedicated to providing the best educational program possible for our students. Should something occur that you have a question about or are unhappy about, please give your child's teacher a call first. If you are unable to resolve the issue call me at 424-1228 ext. 2703 so that we can work together to address your need. If you have a concern that you have been unable to resolve with me, you may call Dr. Andrew Jones, Director of Administration, at 424-0100. He will help you address your concern and/or connect you with others who can help.
Notice of Surveillance
South Park Middle School is using video surveillance/electronic monitoring to observe, monitor, and/or record the behavior and activity of all personal on school property or grounds, or participating in school functions
American Disabilities Accommodations
Upon request, reasonable auxiliary aids and services will be provided to individuals with disabilities. If assistance is required, please provide advance notice by calling the school office at 920.424.0431
.
Non-Discrimination Statement
The Oshkosh Area School District, including all school buildings/sites/programs, does not discriminate on the basis of sex, race, color, religion, creed, age, national origin, ancestry, orientation, or physical, mental, emotional or learning disability. Therefore, no student shall be excluded from participation in any curricular, extracurricular, student services, recreational or other program or activity. When separation by sex in education activities is appropriate for health and/or safety reasons, equal educational opportunities shall be provided for both sexes.
---
School Safety/Where to Drop Off/Pick Up During the Day
For safety reasons, all entrances are locked. A "buzz in" system is located at Door #1. If you need to drop off something or pick something up or drop off/pick up a child, please do so at Door #1.
---
Whom Should I Contact?
We hope these listings will assist you in getting your issues dealt with directly and efficiently. Go to the following link: Whom Should I Contact?
---
Specialist Updates and News